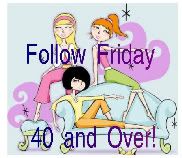 Today I'm participating in Follow Friday 40 and Over! Hop over to Never Growing Old and join the fun!
In August, 1990, Iraqi forces invaded Kuwait and before we knew it our troops and troops from around the world descended on Saudi Arabia in Operation Desert Shield. It was a scary time, especially for those of us who lived in our little community in Germany.
Being in a foreign country and saying good-bye to my husband who was going off to war was one of the hardest things I've ever done. My children were five and six and even at that age had an idea of the seriousness of the situation. When the war started, they cried and asked if Daddy was going to die. It was hard to answer that question when I was wondering the same thing, only I had no one to ask.
The day Michael left was one of the saddest days, but the day he came home ranks as one of the happiest days of my life! It's right up there with the day we got married and the day the kids were born! This picture is one of my all time favorites because everytime I look at it, I'm reminded of what we went through while he was gone and how happy, excited and relieved we were when he came home! Our family was complete!
What is one of the happiest days of your life?
Annette