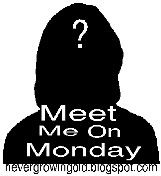 I was at a loss as to what to write about today and I remembered this meme form
Never Growing Old
. So in case you wanted to know more about me, here you go!!
What one food could you eat every single day?
I enjoy so many different foods I can't imagine eating the same thing every day! I might could eat soup every day if it was a different kind every couple of days.
Do you wear glasses or contacts?
I've worn glasses since I was in fifth grade. I've tried contacts over the years but I had so many problems with them I gave up on them.
What kind of cell phone do you have?
I have a Droid Eris. It's a love/hate relationship!
What did you have for dinner last night?
Marinated boneless chicken breast cooked on the grill, baked sweet potato and roasted broccoli. I would still want variety but I could eat anything cooked on the grill (charcoal) every day!
What is your favorite candy?
Godiva chocolates! Especially the one that is a ball of hazelnut chocolate between two clam shells! This is something that is a once in a while treat. My go to chocolate is Hershey Kisses! Now there's something I could eat every day!! I just don't like dark chocolate!!
Have a marvelous Monday!!!