Letter to Annette in 1975
Dear Annette,
I know how disappointed, angry, sad and scared you are at this moment. You feel like the world has ended and you might as well die. You are hating the army, your dad and life in general right now. It's understandable. You're seventeen and your world has been turned upside down.
I'm writing this to let you know you're going to be okay. Your senior year of high school won't be what you planned, but it won't be as awful as you imagine it will be. You will be surprised at how quickly you make friends and are welcomed into the group. These new friends are going to help you get through the next year and are even going to throw you a surprise eighteenth birthday party! You and your mom are going to become closer because she is home and not working. You're going to learn about compassion, telling the truth and taking responsibility for your actions. Trust me when I say you will look back on this time and see how you began growing into the woman you are today.
The next fifteen months are going to be emotional, fun, traumatic, heart wrenching, eye opening and essential to who you are becoming! It's okay to be sad because of what you are leaving behind, but I encourage you to look forward with an open mind to all the possibilities and adventures that are in front of you!
Love,
Annette from 2010
I've mentioned many times that I was an army brat. In August 1975 my dad received orders to go to White Sands Missile Range in New Mexico. We lived outside St. Louis and I had attended my high school for two years and my schedule was set for my senior year. To say I was devestated is an understatement. Many offers from friends' parents were made to allow me to stay with them but my parents wouldn't hear of it. In true seventeen year old fashion, I cried, stomped my feet, yelled and slammed doors. I just wanted to die!!
My senior year was a disappointment but my friends made it bearable. If it wasn't for them, I think I would have died on the inside and would be a very different person today. At that age, your friends and school are your life. I guess my mom still has the pictures from that time because I couldn't find any and I know there were a lot of them! The picture above was taken just before we moved. I was going to a formal banquet at church for all the seniors. (I made the dress!)
If you could write a letter to your younger self, at what point in your life would that be?
Click on the button and join today's blog hop!!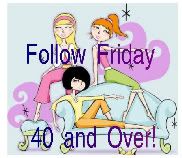 Annette