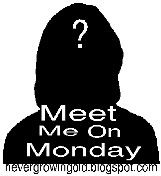 It's Monday again and I'm hooking up with the blog hop at Never Growing Old. Every Monday Java asks five questions designed to get to know the blogger behind the blog! Click on the button to join the fun!
What is your favorite dessert?
This is one of the hardest questions for me to answer because I love dessert! Pies, cakes, puddings, cheesecake.....I really just love sweets in general!
What do you wear to bed?
Nowadays I wear an oversized sleeping tee shirt that says MOM on it! In the winter I wear flannel pajamas! Not very sexy or romantic but it's all about comfort now!!!
Do you get regular manicures/pedicures?
I used to get my nails done every couple of weeks and I had the prettiest acrylic nails. I quit work and that was one of the first things that had to go. I've never had a pedi because I have this thing about my feet being touched!
Did you play sports in high school?
No! But I did enjoy volleyball, tennis and golf in gym class.
Do you have an iPod?
Yes. It got lost in the move we made three years ago and I found it just a few weeks ago! However, I haven't used it since I found it! I'm still a cd and radio girl at heart!
For the past week and a half I've been enjoying the company of my daughter and sweet granddaughter! I've let a lot of things go during that time including posting here and reading my favorite blogs. I hope to get caught up this week to see what everyone has been up to!
Have a marvelous Monday!!!
Annette