It's Monday and that means it's time to answer some questions. It's a fun blog hop that lets you get to know the person behind the blog! Thanks to Java at Never Growing Old you can click on the button and join the fun!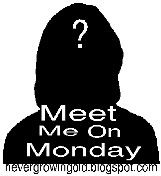 What is you favorite holiday?
Christmas!!! I love everything about it...the decorations, twinkling lights, the music, baking, shopping, wrapping, giving gifts that bring big smiles and hugs...
What color clothing do you wear the most?
Mostly pastels especially pink, blue and lavender.
What is your heritage?
German, Irish, Scottish
What is your middle name?
Annette. My first name, Velma, is after my grandmother but I've always gone by Annette.
What is your favorite cookie?
My
chocolate chip pecan cookies
are my absolute favorite but I am a cookie monster! If cookies are around, I'll eat them!!
Have a wonderful Monday!!!
Annette