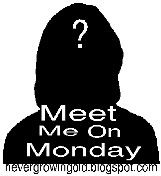 I have linked up with Java at Never Growing Old where she asks five questions to get to know the blogger behind the blog! If you would like to join in the fun, just click on the button!
What is your favorite kind of potato chip?
I don't dare buy them since my son left the nest! Mr. Memories doesn't eat them so I would eat the whole bag!
Do you make your bed everyday?
No I don't. I did for years and one day decided, "what's the point"?! Oh, I might pull all the covers up once in a while, and I make it when I change the sheets, but that's it!
How often do you go to the hair salon?
Every 6-8 weeks since I have highlights and a style that needs regular trims to look good!
What do you dip your french fries in?
Ketchup is my first choice but I will dip it in just about any sauce that is served with appetizer foods! I also really like the gravy from Dairy Queen for dipping fries!
Do you shop with coupons?
Not too much any more. Up until about 10 years ago I used them faithfully. I should revisit that...I saved a great deal when I used them